Blogging is not hard work. You just need to use the best tools for bloggers which will help you to grow your business, increase traffic and will save your time.
Today I am going to share the 151 best blogging tools to grow your blog at rocket speed.
In this epic guide of 101 free and best blogging tools which your blog needs right now. I will talk about all tools which are very necessary for every blogger. These awesome instruments will make you a better blogger.
In this epic guide, We will cover :
Basic Tools for bloggers which will increase your traffic.
Best Blogging tools to save your time.
How to manage all your social media account from one dashboard.
Some tools which every internet marketer should have.
And a lot more.
So Just start:
Blogging Tools To Start Your Website:
1. Blogspot
Blogspot is a free platform where you can create your free blog. Blogspot made many person writers when it launched in 2008. You can create your personal or business blog in three easy steps here :
Pick Your Niche 2. Give A Name To It 3. Start Writing
If you are a professional blogger then you also need Blogspot to promote your affiliate products.
2. WordPress
In WordPress, you can create a better site than Blogspot. WordPress website is more beautiful than blogpost and also optimize.
There are many plugins to help you in WordPress So you need not have any coding skills.
You can create many WordPress sites to promote your affiliate offer or for your follow-up email.
For me, I have created nekrajblog.wordpress.com to promote my affiliate offer
3. BigRock :
Look:
If you have made your site at Blogspot then your website name will be like this example.blogspot.com and if you create your free site at WordPress then your blog name will be like this example.wordpress.com
It does not look professional. So why not buy a domain?
There is a site called Godaddy to buy the domain but they sold a very high price domain. What if we can buy the same domain at a low price?
Sounds Good and you can purchase a cheap domain from the big rock. They provide a very cheap price for every domain and you will get 2 custom emails from them like admin@yoursite.com
Tips to buy Good Domain :
Always Buy a short domain.
Add  one keyword in your domain like seofreetips.net
Though domain extension does not affect SEO it's advised that you buy the .net,.com, or .org domain.
If you are making a site for your local business then always buy country label domains like .in, co. UK, etc
Oh! I forget one more thing. Support for Bigrock is also very good. They have their support in the local language also. There is a 20% difference in price between a big rock and GoDaddy for the same domain.
Buy A Cheap Domain From Big Rock
Note: You can use Coupon code APCOM99AFF to get 90% off.
4. Bluehost
If you want a self-hosted website then Bluehost is the leader of the hosting service. They are currently hosting millions of websites. Their price is not also high. The charges are generally 7.45/mo but you can buy self-hosting at 3.95/mo from this promotion link. The good thing about Bluehost is this you will get a .com domain for free from Bluehost.
This site is currently hosted at Bluehost and domain seofreetips.net I get free from them. You will also get 5 custom emails once you sign up.
One benefit of self-hosted websites I see is that they get fast approval by ad networks like Adsense, popads, or leads leap.
Get My Free Domain From Bluehost Now
Tools For Setting Up Your Website :
You have created your website, Now what next?
Now you need some tools to set up your website. Here are some fantastic and best blogging tools to set up your site.
5. Jetpack WordPress Plugin :
This is the most downloaded plugin in WordPress. Most WordPress blog has this plugin.
This plugin will monitor your website, provide you traffic stats, notify you if the site goes down, help you to make your site load fast, and a lot of.
6. Akismet
One of the blackhat techniques to drive traffic is getting spammed by comments. But if you don't like spam comments [No-One like] then you need to use this plugin. This is just an installation and activates the plugin. No other setup is needed.
It will help you to stop spam comments. Look at the pics below: [Image Credit: WPBeginner]
7. Sumo Me :
Sumo Me is all one plugin for your WordPress website. With Sumo me, you can increase your conversation, collect more leads, increase your traffic, show a welcome mat to your first-time visitors, increase Twitter followers and Facebook fans, and a lot more.
Here is the complete guide to setting up SUMO Me by WPCube.
Making Your Website Perfect :
The following tools will help you to make your website perfect.
8. Lazy Loading :
Lazy loading will help images to load fast. IT will be very good if you are using a lot of images on your site
9. comment Luv plugin :
This beautiful plugin will help you to get more comments on your post.
10. Image suit WordPress plugin :
This is another good option for finding an image without leaving your website. This plugging will find pics from public licenses so you can use them without giving image credit. Quora use this plugin.
Download This Plugin
11. Polldaddy
It will add polls and surveys to your article.
12. Easy Digital Downloads :
If you have a website to download songs, ebooks, software, etc then you need this plugin.
Download Easy Digital Downloads Plugin
13. Optin Monster-
This is another optional for Sumo me. You can use it the same way as Sumo Me.
Use Optin Monster For Your Website
14. wpforms –
This is a wordless plugin to create forms on your site.
15. Click to Tweet
Built by the team at CoSchedule (which also makes a helpful WordPress calendar and scheduler), this WordPress plugin makes it simple to highlight snippets of your blog post for readers to easily share on Twitter. For sites not running WordPress, consider a tool like clicktotweet.
16. Yoast SEO Plug-in
One of the most popular ways to get traffic to your blog posts, particularly if you don't have an established audience, is through search engine optimization (SEO). Organic search traffic comes from people who use Google, Bing, or other search engines from looking up specific phrases.
Once they receive their results, they can enter your site. This is why it's important to have a high rank on search engines, so you get more traffic to your blog.
There are a variety of factors that impact SEO, but the two major categories everything falls under are:
On-page factors: Such as meta titles, Web development, URLs, the actual content on each page, and page structure
Off-page factors: Such as backlinks, mentions of your company/website online, and social factors
Yoast SEO is a WordPress plug-in designed to help you improve some of the most important on-page SEO factors–even if you aren't experienced with Web development and SEO. This plug-in takes care of everything from setting up your meta titles and descriptions to creating a sitemap. Yoast even helps you tackle the more complex tasks like editing your robots.txt and .htaccess.
Some of the settings may seem a little complex if you're new to SEO and WordPress, but Yoast created a complete tutorial to help you get everything set up.
17. WP super cache
We recommend installing WPSuperCache to maximize the speed at which your blog's pages load for a visitor. Consider it fine-tuning for your blog's engine; knowing the technical details at this point won't make you a better blogger but your blog won't annoy your visitors.
When you publish something new, this free WordPress plugin will automatically publish it onto multiple social networks.
Blogging Tools To Create Better Content:
You have set up a perfect website. Now your task is to create user and search engine-friendly content. So here are the great blogging tools which will help to create better content in a short time.
How do you frame your awesome idea into a far-reaching blog post (that people can easily find)? Check for popular keywords. Google's Keyword Planner lets you enter a series of keywords, and Google returns results on search volume and popularity as well as related keywords that might spark an idea for you.
20. Portent title maker
If you are not sure what should be the title of the next post then head over to the portent tile maker and it will suggest you some title. Which you will surely like.
This is a cool website to check the readability of your post/content.
I use this tool for every post including this one. Why not check the readability of your post?
The best tool to check grammar mistakes in content.
23. Evernote :
I use Evernote to organize my business. There's an overwhelming amount of information that I learn every day and I use Evernote to keep all that information.
Use EverNote To Keep Your Information
Finding Visual Content For Your Next Post :
An Image is equal to 100 words so why not add a lot of images in your post to make it more interesting. Here is the tool which you need:
If your target is to drive maximum visitors from Facebook then you need to use the meme. This is the best tool for a blogger to generate memes.
Make Memes for Your Next Post
25. light screenshot taker
It is a chrome extension that helps to take a screenshot and you can also edit your screenshot with this tool.
The screenshot you see on this blog has been taken by a light shot screen taker.
Download this chrome extension
26. pixabay:
With pixabay, you can find free and public license images in HD quality. Most of the images on this blog I have taken from pixabay.
Download some images from pixabay
27. Shutterstock :
To find more beautiful and data-driven images. This is the most reliable option to find images for a business website.
28. Start.me:–
This is a great free social bookmarking tool.
You can manage all your favorite websites, filter, use RSS feed to read your favorite blog, and a lot more.
Best Tools For Email Marketing :
Money Is On the list. So why not have a look at the best email marketing tools :
29. Aweber :
Aweber is my favorite email marketing software. If you are not using email marketing for your website then you are leaving money on the table. I have written in my last post about the benefits of email marketing.
Check Aweber Service for 30 days for free.
To power, my WordPress RSS feeds and also to make them available for everyone to subscribe to via email.
31. Constact Contact –
Constact contact is an email service provider. But it's much better than Aweber or mail chimp.
It has many features like –
Free For two months. (MailChimp provides for only 15 days)
2. Easy to use (Easier than mail chimp or Aweber.)
3. No credit card is required while signing up. (Aweber needs it)
4. You can use a different address for each campaign. (You cant do it In Aweber or MailChimp )
5. Fast and 99% delivery. You can send 1M in a single click to any email address. (You cant do it in MailChimp).
P.S- You can get a $30 Free +2 Months Free trial using this link.
Sign up to constant contact and get $30 For free.
32. Leadsleap :
Leadsleap was launched in 2008 and started as an auto-surfing site, and now it has released its second version with more opportunities and rewards for its members.
It is a free list builder for your blog.
You should also check Leadsleap Review
Tools To Outsource Your Work :
Look :
You can not do every work so You need high qualified tools/freelancer who works for you. You need to create an online team for your blog. So here are the best blogging tools to outsource work.
33. SEOCLERKS :
It is the best tool to outsource your work like link building service, Twitter follower increment, SEO service, and many more.
I would also like to remind you that this is the one of best money-making sites. I use this for making money and making my team.
34. Fiverr:
Fiverr is an alternative to seoclerks.
35. Beacon
This is also a WordPress plugin that will create a pdf e-book from your post. You can also create a beautiful eBook with a beacon and the best thing is this is free.
I have created most of my eBooks like RealTrafficMonsoon, The Amazon Income Guide, etc with Beacon.
Tools For Social Media Automation :
If you want to save your time on social media, you need to use these tools :
36. WeFbee
It is a very good tool to increase website traffic from Facebook.
Using these tools you can share your post in multiple groups with a single click. You can post on your all Facebook page at once and many more features.
Visit wefbee now (It's free.)
Note – Don't share your post with more than 20 groups in a single click else your id may be blocked.
37. Jarvee – Best Social Media Automation Tool
Jarvee is a social media automation software that runs only Windows operating systems. This software can grow your social media fans, increase traffic to your website, boost your social media presence and automate every task we do on our social media accounts e.g. commenting, liking, sharing, etc.
38. Buffer :
Buffer is my favorite social media tool. With the buffer, you can share your latest post to multiple social accounts. You can also schedule your post, track clicks, likes and reach, and a lot more.
only wire is another social media automation tool. With Only-wire we can automatically share our posts on 100 channels like Reddit, StumbleUpon, etc.
40. Dlvr.it
It's a solid media tool. It will automatically share your all blog post to social media as you publish.
Plus You can schedule your post, update any post to all your social media networks in a single click, and much more.
It's a free tool. Join dlvr. It
41. Tailwind:
Pinterest is my number traffic source from all social media channels because of the tailwind.
With the help of tailwind, you can automate, schedule, and analyze Pinterest marketing and grow your traffic.
Price starts from only $4.95/mo for unlimited pin scheduling and posting.
They have android apps and a chrome extension which makes scheduling very easy.
They will provide 2 month's free trial if you use this link.
Else you can get 1 month's free trial by this link.
42. IFTTT
It will automate most of the tasks.
To find and add more Twitter followers, Facebook fans, etc.
To manage your Twitter account.
Monetization Tools :
There is no good reason to write a blog post if you don't have a monetizing plan. Let's talk about some tools to make dollars from your blog.
If you want to get some quick money when someone clicks on your short URL then you should use shorte.st
46. Popads
Network – It's a very good monetize network that gives the highest payout. You will get automatically a payment of a minimum of $5. Approval is very easy and very fast.
Read more about popads network
47. Paypal :
You know a lot about this. PayPal will help you to collect payment from various online sources.
48. Google webmaster tools
This is also known as the Search console tool. If you are a tech geek then this tool is very friendly for you. This tool will give you all the insight about your blog e/g which of your page is ranking high, how your site will look in search engines etc.
49. Screaming Frog
Screaming Frog analyzes your existing post to check page titles, page descriptions, and other areas that are important to SEO. It's very useful to do a review to see if you can further optimize your existing posts!
Check Screaming Frog https://www.screamingfrog.co.uk/
50. Majestic SEO :
This is all one SEO tool. You can analyze your backlinks, indexed pages in google, and a full report of SEO. It is a tool for an SEO agency.
51. Google Analytics
Your content is created and you've been promoting it through social media and email marketing tools. Now, you need to know the results of your efforts.
Google Analytics is the most popular blogging tool to track the performance of your content. Google Analytics can get very advanced, but here's a good guide for beginners that tells you the main areas you should start looking at, which are:
Audience: Who's coming to your blog?
Acquisition: How are people finding your blog?
Behavior: What are people doing on your blog?
The more you log in and check your analytics, the more comfortable you'll become with the dashboard. If you don't have Google Analytics installed on your blog, make it a priority.
It is a keyword tracker tool. You can also submit your site in multiple directories at one time. You can also track your backlinks .social media promotion, etc with this tool. The main benefit of this tool is this you will get weekly mail that how is your project going.
It also has a 60-day trial which is very good. [Click on the image to start ]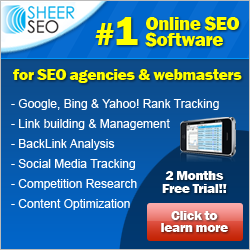 Best Tools For Bloggers To Cloud Storage :
53. dropbox :
Free 2 GB cloud storage of your files. You can also use dropbox to store your freebies/ pdfs/ videos and send the link to your readers to access it. You can also automate your action to dropbox with the help of IFTTT tools.
54. Google drive :
Work similar to dropbox.
If you are giving something free to your readers eg. PDF or any file, Mediafire is best for cloud storage.
Mediafire is now rated amongst the quickest developing websites, with its yearly growth rate being 100%. This online backup provider is still the only one to offer unlimited downloads and uploads, download resuming capability, unlimited storage, and also zero wait time to users, and all this for no charge. Moreover, the addition of new features as necessary keeps the service updated as per the feedback given by the users.
Features:
Mediafire is a well-known file storage provider and is globally popular for allowing users to store and download large files. Users who do not opt for any plans can also download the files uploaded publicly. Almost all file types can be uploaded, and the upload process is fairly easy with the new multi-upload button.
Sign up for Mediafire and get 50 GB of free storage
Other Tool You MUST Have
56. Buzz sumo
Suppose you are going to write a new post but you don't have any idea which is the most successful post in your niche.
So what next? Just go to buzz sumo and enter your keywords. Buzzsumo will show you all posts with social shares and backlinks.
This is will give you an idea that what should you write and what should be the heading. Before writing this post I have also checked my keywords in the buzz sumo tool.
Try Buzzsumo For Your Next Post
57. Trello:
A card-based task management tool. I have used it in the past, but have now shifted to Wunderlist. Still, Trello serves a different purpose and is very popular.
58. Google docs
Google docs are free services from Google. With google docs, you can create an excel sheet, and docs file online. This is a must-have tool for every marketer and website owner.
59. Quora
You have a question which is very necessary for your business. Where to ask your question so that you get a fast response?
The only place I suggest is quora. You can ask questions and also answer. This will help you to gain knowledge and share knowledge.
Note: You can also ask questions in the comments and I guarantee the best answer.
60. Viral Content Buzz :
Viral Content Buzz is a free social media promotion tool. With the help of VCB, you can share another article on your social media account. When You share another post, you will earn points and you can use those points to promote your article.
Join Viral Content Now!
Note: To be qualified for Viral Content Buzz, you need an account that has a large number of followers. If you don't have a large number of followers then head over to these 2 articles :
50 Ways To Increase Twitter Followers
51 Ways to Increase Facebook Fans Page
If you are from a highly competitive niche like blogging, or marketing you should use this tool for upcoming queries in your field. You can explore trending search topics on Google.
62. Camtasia video maker tool :
If you want to create a high-quality video then you need this software.
63. Semrush 30 Days Free Trial:-
Semrush offers 30 days free trial and many pro marketers use this tool. You can semrush for any task.
You can research Competitors' Keywords to find untapped keywords.
64. kwfinder:
This tool will find keywords in your niche. A good alternative for google keyword planner.
I have shared the details guide in kwfinder review.
It's my preferred URL shortening service (when I have to shorten one).
To monitor the uptime of my websites.
67. My Hours :
My Hours is an online time-tracking tool to help you work out where all those hours in the day disappear and see which tasks take more time than they should. I've just started using it to track how my time is spent in a bid to increase productivity. It seems easy to use and useful too.
Have you got a little image that displays when you leave a blog comment or are you stuck with the default grey man? If you're a grey man hurry over to Gravatar (it stands for globally recognized avatars) and spend a few minutes uploading a fab photo of your dear self. This is such an important part of your online branding but one which many new bloggers overlook.
69. Answerthepublic
What is your audience asking in other forums? This free blogging toolset will tell you.
70. Keyhole:
keyhole is a Twitter search engine that you can use to discover Tweets. It allows you to filter the results based on various parameters – links, photos, videos, influencers, time, etc. keyhole also allows you to identify influencers by keywords, person, or company name and leads you to content trending as 'hot' for the specific industry.
71. Fyrebox
Fyrebox is a free tool that lets you make your quiz in minutes. Imagine how long it would take to design an interface and write code for your quiz manually.
72. Wunderlist
Wunderlist is a productivity tool for getting things done, setting reminders for important events, and running virtual errands. You can use it to keep your life in sync with a professional to-do list.
VaultPress is a subscription-based protection, security, and backup service for WordPress blogs and sites.
Visit Vaultpress https://vaultpress.com
74. thristyaaffilaites :
ThirstyAffiliates will create pretty links from ugly affiliate links (aka link redirection or link cloaking) all the while giving you the double benefit of protecting your affiliate commission.
It will help you to remind all your passwords. As a blogger, you need to join many websites which require opening an account. So how do you manage all the accounts? Last Pass is the best solution.
It's the sexiest RSS reader for desktop and mobile.
For Pinging your newest post.
78. Pingler
It's a pinging bot. If you write too many posts a day or have forums then use this tool. It will automatically ping the newest entry/post on your site.
79. Google image search
Use images with an appropriate license that you can use on your blog
80. Sprout Social
Sprout Social has a handful of tools, and my favorite ones are their free tools.
You can put your social media handle in one of them, and the tool will tell you the best times for you to send a tweet or share a post on Facebook.
Their reports will break down data such as:
The words and phrases your users want to see in social media posts.
The time of day they use these social media platforms. This way you know when to post.
The top users that follow you and the times when they log in.
The reason you want to use these tools is that you don't want to tweet at 8 a.m. when all of your followers are on Twitter at 4 p.m.
81. Google Alerts
If you aren't already using Google Alerts, definitely set up this tool to use in conjunction with your blog. Even if you don't report the news, it's good to know what is going on in your niche. You can also set up a Google Alert for your name (if it isn't too common) and for your blog's name so you get an email every time someone else talks about you.
Even if you're new, you might be surprised how often other bloggers link to your site or mention something you've written.
Easily unsubscribe from multiple mailing lists you are currently subscribed to and go on an email inbox detox today.
83. Pro Rank Tracker :
Pro rank tracker is a rank tracking tool. Let's suppose you want to rank for the keyword " pro rank tracker review " and you wrote your awesome post. Once you have finished your post, you need to build links so that you can rank for your desired keyword.
Read More at Pro Rank Tracker Review
84. 000Webhost :
If you can not afford premium hosting then you can start with free hosting. 000webhost is a leading free hosting provider. They have the same feature as paid hosting like one-click WordPress installation, unlimited disk space, etc.
One good thing I like about 000webshot is that they don't show ads on your website like many other free web hosting services do. If you have already a website then You can create a website for a sales page /review website/affiliate website there.
Sign up For a Free web hosting account.
85. canva
To create online graphic designs.
86. Easl.ly
We use it for creating beautiful infographics on our blog.
Create Infographic for your blog.
A great social media management tool which also to schedule your post on all social media channels.
88. Share this:
A very fast way to share your post and make backlinks to over 300 platforms for free.
This website helps to create professional images and infographics for your website. You need images when you post any article so this can be very helpful for you.
90. MailerTracker
This is another Aweber alternative. Read Mailer Tracker Review.
When you have thought about being a blogger you have to see some detailed things as well. SideSpeedBot will help you to check the speed of your website. If it is slow it will tell you why it is slow and what you can do to make it better.
This website is both paid and free. Here you will get 760+ free and professional Email Templates. You can design it for free or can hire a designer from here
Patch My PC Updater 4.0 is a well-designed program for Windows to help keep the software on a Windows machine up to date. It comes with the right customization and automation options, as it allows you to block updates or schedule updates so that they run automatically.
94. haveibeenpwned.com
There are many hackers in the world this website will help you to check whether your email has been hacked by data breaches. It will show that is your personal information has been leaked or not.
This helps your content to grow. If you are writing for Google and if you have done Adsense it will help you to earn money by putting some useful articles to the viewers.
If you are writing an article you need keywords to rank those articles. This website will help to increase your skills and will provide keywords that will be very useful.
This is one of the best keyword research tools for blogging. If you use Ahrefs it will help your article to rank fast. You can also see your competitor's keyword which will help you to grow better.
98. Similar Web
This website helps you to analyze your website and your competitor's website as well. You can check the ranking and overview of any website.
This website helps you to check the errors. If you have done any error in your article or any common mistake which has been formed in every place you can easily remove it. It is very easy and simple to use.
100. Temp Mail
Here you can find any mail which you can use to log in to some of the websites. It will give you full access to any temp mail. If you are getting access that doesn't mean it is hacking a website.
101. Caching detector
Caching detector – An awesome tool built by Hubert Nguyen
http://ismypagecached.com
Currently supported:
NGINX redis+fastcgi
Litespeed cache (headers + HTML info)
Varnish (Fastly, Cloudfront, generic varnish)
Cloudflare (+APO)
FlyingPress
WP-Rocket (disk page caching)
Other Tools
Frase For Content SEO
https://sparktoro.com/
https://www.yext.com/ AL Keywords Search Tool
https://casestudybuddy.com/ This website provide case study creation service for business.
The tool will automatically select and create everything, starting from logo, fonts, gradients, filters, patterns (basically your entire brand book), profile picture, social media banner image and business card design, which are all fully customisable.
Zoho Free Business Email Zoho provides 5 professional email ids for your workspace in their free plan.
https://invideo.io/ Convert Blog or BlogPost in Video.

The Best Blogging Tools We Use at SEOFreeTips :
We use bluehost, KW FInder, buffer,yoast seo plugin.
Now It's Your Turn :
I have mentioned all the best tools for bloggers which are perfect for each new blogger, advanced market, and even experts. Now it's your time to add more toolbox to this list. Remember: Blogging is not a hard job. You need to continually learn to blog.
If you have any queries or want any help with any tools just comment below. we will feel happy to help you. You can also suggest the best blogging tools which you are using for your site.